Support New England Disabled Sports
– Where Boundaries Are Broken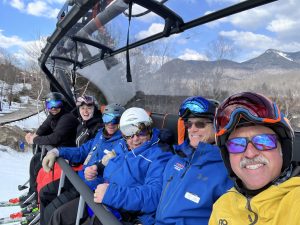 New England Disabled Sports (NEDS), a 501(c)(3) non-profit organization founded 36 years ago and headquartered in Lincoln, New Hampshire at the Loon Mountain Resort with a satellite office at the Bretton Woods Resort, is nationally recognized as one of the premier adaptive sports programs in the United States. NEDS offers both winter and summer adaptive sports programming, organized and directed through the guidance of our expert programming staff and volunteer coaches.
New England Disabled Sports offers a full range of year-round recreational opportunities, providing customized adaptive sports instruction to adults and children living with physical and cognitive disabilities. Our program focuses on the student-athlete's ability, not his or her disability.
New England Disabled Sports is a 501(c)(3) tax exempt non-profit organization. Our EIN #02-0460732.
Yes, I would like to Make A Donation
Or create a fundraising page for our Winter Challenge Event to help us continue Breaking Boundaries!
Create a 2024 Fundraising Page (coming soon)!
In addition to our need for volunteers and financial support, we also have a need for various other supplies and equipment. We have compiled a list of things that we need on an ongoing basis or have a current need for. This list may change occasionally so please check back.
Donor Rights
New England Disabled Sports is committed to financial transparency and has an "open door" policy with regard to donations made to advance our organization and its mission.
In 2014, the board of Directors implemented fiscal policies and procedures, specifically developed to assure that every donation is treated with respect and trust. Your rights as a donor to New England Disabled Sports are to be informed of the organization's mission, the way the organization intends to use donated resources, and its capacity to use donations effectively for their intended purposes; to receive appropriate acknowledgment and recognition; to expect that all relationships with individuals representing organizations of interest to the donor will be professional in nature; to feel free to ask questions when making a donation; and, to receive prompt, truthful and forthright answers.
The latest year-end financial statements and Federal Form 990 on file with the Internal Revenue Service, as well as a printed version of the New England Disabled Sports Fiscal Policies and Procedures document are available for public inspection.