Lesson reservations for the 2023 -2024 winter season will open in the late fall of 2023.
You can schedule two ways either by logging into the NEDS enhanced
online lesson portal
or by calling the NEDS office. You will be able to add and pay for lessons throughout the season at your convenience (based on availability) by using our
online lesson portal.
You can even add yourself to a waitlist if a date is unavailable! To request lessons by phone, call the NEDS office at (603) 745-9333, (603) 745-6281 ext. 5663 or our Bretton Woods Office at (603) 278-3398.
Please note:
At this time, if you are a NEW student to NEDS, have a discounted rate, such as a scholarship, are a Veteran, have a gift certificate, or other, the customer portal is unable to book those types of lessons. Please give us a call and we will be happy to schedule lessons for you based on the dates above. You will still have access to the customer portal and can log in, update your profile and view your upcoming & past lessons! We are hopeful to have this option at a later date.
To create a better customer experience, we will be staggering lesson opening dates.
Please review the following prior to registering for winter sports.
Here are the basics for scheduling lessons:
NEDS will be offering diversified lessons for student-athletes (ages 4+) that meet the Essential Eligibility Criteria & Student-Athlete Code of Conduct.
To participate in NEDS programming, full vaccination is preferred for all student-athletes who are eligible to receive a COVID-19 vaccination.
No limits to scheduling lesson reservations. Each student-athlete can schedule as many lessons as they choose (based on availability).
Lesson payment is required to be paid at the time of scheduling ALL lesson reservations.
You may register for an AM and PM lesson on the same day if you have the skills/endurance to ride for the duration, dependent on availability. Lunch break is independent – supervision is required by a parent/guardian.
Staggered lessons will be conducted at 9:00 AM, 9:30 AM, 12:30 PM, and 1:00 PM. Lessons are tentatively scheduled to start Monday, December 11, 2023, and end March 31, 2024 (weather dependent).
If you have any questions or concerns, please call us at NEDS Loon (603) 745-9333 or NEDS Bretton Woods (603) 278-3398.
Winter Sports and Types of Equipment
ALPINE SKIING
The mainstay of the New England Disabled Sports Winter Program, Alpine Skiing or downhill skiing is the sport or recreation of sliding down snow-covered hills on skis with fixed heel bindings.  Check-in for your lesson, get fitted for your equipment, meet your instructor and head out our door to embark on your snow adventure. Individuals with cognitive or physical disabilities who are four years or older and are invited to participate. Come and experience the independence of skiing in a safe, fun, and supportive environment.
Call for available dates, times & costs.
SNOWBOARDING
Come "shred" our mountains! Snowboarding is a recreational activity that involves descending a slope that is covered with snow while standing on a snowboard attached to a rider's feet using a special boot set onto a mounted binding. The development of snowboarding was inspired by skateboarding, sledding, surfing, and skiing. It was developed in the United States in the 1960s and became a Winter Olympic Sport in 1998.
Call for available dates, times & cost.
NORDIC SKIING
Experience a cross country (Nordic) skiing lesson and take in all the beauty of the New Hampshire mountains.  Nordic skiing is where the heel of the boot cannot be fixed to the ski, as opposed to Alpine skiing. It is the sport of skiing across open country, often through woods, using narrow skis with boots that can be raised off the ski at the heel when striding.
Call for available dates, times & costs.
SNOWSHOEING
Enjoy a cross-country walk on our local trails and take in the beauty of New Hampshire's White Mountains. Utilizing snowshoes, a pair of lightweight platforms for the foot that are designed to enable a person to walk on soft, deep, snow without sinking. Similar to hiking but in the snow, snowshoeing is a popular sport with people of all ages and abilities.
Call for available dates, times & cost.
EQUIPMENT
MONO SKI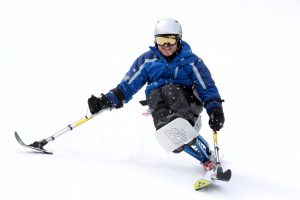 The Mono Ski is a device used mainly by people with limited use of, or absence of the lower extremities. A mono ski, also known as a "sit skit," utilizes a bucket style seat mounted on a metal frame with a single ski underneath it. A shock absorber beneath the seat eases riding on uneven terrain and helps in turning by maximizing ski-snow contact. An individual uses short handheld outriggers (metal elbow crutches with small skis on the end of them) to aid balance and/or give support. The mono-ski also has a lift mechanism for getting onto a chairlift. Individuals who have lower limb impairments and reasonable balance use mono-skis as they require strong arms and good trunk balance. People with brain trauma, post-polio, muscular dystrophy, cerebral palsy, multiple sclerosis, spina bifida, spinal cord injuries, and double amputees are good candidates for mono-skiing. Mono-ski users should weigh less than 200 lbs.
---
BI SKI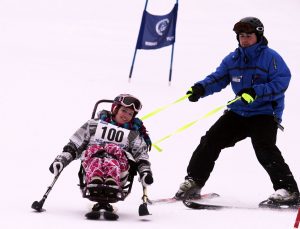 A Bi Ski is a "sit ski" is a bucket style seat with two skis beneath it which can be skied independently like the mono-ski utilizing handheld outriggers (metal elbow crutches with small skis on the end of them), or can be skied with the assistance of an instructor using stabilizing outriggers and tethers (reins attached to the back of the bi-ski.) Bi-skis are often used by people with upper and lower limb impairments and poor balance. Since the skier utilizing the bi-ski often has limited upper body strength, he/she is able to capably turn the bi-ski by moving his or her head, shoulders or hand-held outriggers. The bi-ski also has a lift mechanism for getting onto a chairlift allowing a skier to load onto the lift independently. A bi-ski is often the choice of a new sit down skier before progressing to a mono ski.
---
FOUR TRACKING & SNOWSLIDER
Four-track skiing is stand up skiing using two skis with two hand-held outriggers for balance/support, giving the skier four points of contact with the snow. Outriggers are metal elbow crutches with skis on the ends, some having adjustable brakes to aid in speed control. Candidates for 4-track skiing are individuals with cerebral palsy, multiple sclerosis, post-polio, spinal cord injury, stroke, muscular dystrophy, spina bifida, and those with strength and balance issues.
The snow slider, one of the most recent additions to adaptive skiing is another form of 4-track skiing for those with balance issues. The equipment utilized is best 
described as a "walker on skis," as skis are mounted to the metal frame much like a "walker" with skis. The skier uses their own boots and skis, aided by instructors on either side along with the slider which provides the additional support allowing the individual to stand/ski with far less fatigue. The support of a "slider" allows the individual to learn the movements needed to independently ski.
---
THREE TRACKING
3-track skiing i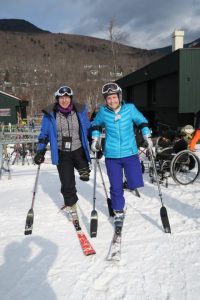 s stand up skiing using one full-size ski and two hand-held outriggers for balance/support, providing the skier with three points of contact with the snow. Three track skiers have one sound leg and two sound arms. Individuals with above the knee amputations and single lower limb weakness typically utilize this method of skiing. 3-track skiing requires a certain level of leg and arm strength and may not be for those who are in a poor or weakened physical condition.
---
TWO TRACKING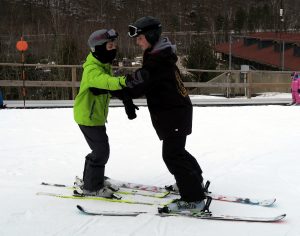 2-track skiing is suitable for any skier who stands on two skis and does not require outriggers. The skier can stand and maintain balance while in motion, although adaptive equipment (tethers, spacers, ski bras, etc.) may be used to aid in leg strength. Two tracking is best suited to students with developmental and cognitive disabilities, mild cerebral palsy, visual impairment, and hearing impairment.
---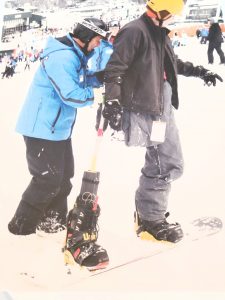 Snowboards can be a great adaptive tool and a fantastic way to experience the mountain. Snowboarders can use outriggers in addition to other tools. Snowboarding is a popular way to ride the snow and we encourage anyone that we can accommodate to try snowboarding with modifications and adaptations for various types of physical and cognitive disabilities.
---
OUTRIGGERS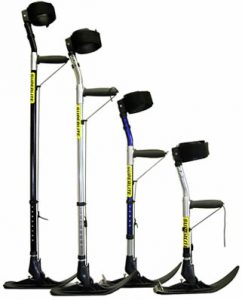 Outriggers are metal elbow crutches with the tip section of a ski pivoted on the bottom of the crutch. Some outriggers have adjustable brakes attached to the back edge of the ski to allow for some speed control. Outriggers are used to aid balance and/or to give support. Outriggers are used by mono-skiers, bi-skiers and stand/skiers needing assistance with balance.
---
TETHERS
Utilized as an important assist technique using webbing or strapping attached to the student/equipment and held by the coach in a way that allows the coach to help steer or control the student/equipment and assist in creating turns, shapes or learning a particular set of movements. Tethers can be utilized as a great teaching tool for almost all kinds of skiing and equipment.
SKI BIKE TETHER                                                                                              STAND UP TETHER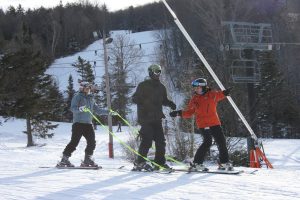 ---
VISUAL AND HEARING IMPAIRED
Skiers learn to ski or snowboard using standard equipment with the assistance of a specifically trained guide.